Escape the Room at your Chanukah Party!
We bring the "Escape Room" excitement to you! Solve the Chanukah-themed puzzles with clues placed around your room, to find the key & escape the room!
Kits are available for rental & include the full experience of lockboxes, safes, posters & props. Setup is easy & should take under 10 minutes.
We also have full service available to set up multiple games for large events.
Please contact us for availability & pricing.
Alternatively, we have the PRINTABLE version of the game available as well!
HAVE FUN & GOOD LUCK!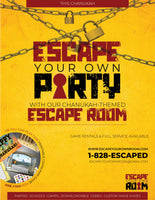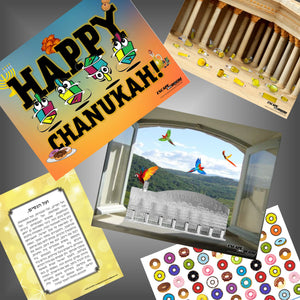 LIVE GAMES
SCHOOLS - CAMPS - PARTIES - EVENTS - FAMILY FUN!
We bring the "Escape Room" excitement to you! The game includes many posters, props, lockboxes & clues to hide around the room. Players must work together to discover clues & hidden combinations, promoting creative thinking, teamwork & communication skills! Hints & answers are provided, should they be needed. Many rooms can be set up simultaneously, to accommodate large groups. Please contact us for pricing & availability.
Printable Games
Alternatively, we've taken some of our popular Escape Your Own Room games & made them printable; enabling anyone, anywhere to experience the thrill & excitement from the comfort of their own home.
The games were designed to replicate as much as possible the feel of an actual Escape Room. The game host spreads many clues around the room and holds on to the rest, until the players provide the answers to receive more clues. The host can still participate in most of the game.
HAVE FUN & GOOD LUCK!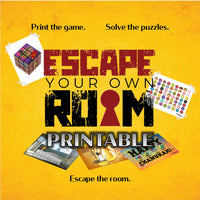 I am amazed at this game! This is the first thing I have found to entertain my 15 year old son that wasn't on a screen!

Tzippy K.
HI! We just completed the escape room. Thanks so much for putting this together, we were 8 adults and we all had a great time working on it.

Esther V.
This game was extremely clever and well done. My kids really enjoyed!!

Reeva G.
I just wanted to tell you that my grandchildren had a blast doing your escape room! The older ones were challenged enough but it was geared so that even the littler ones were able to help (and just go along for the fun of it). Thank you so much!

Ahuva W.